Learn more about Bushehr Culture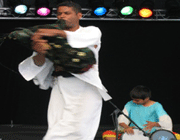 Way of life and manner
The inhabitants of Bushehr Province are compassionate, kind, friendly, touchy and at the same time very hospitable, honest and religious people and they strictly adhere to Islamic teachings.
They take part in joys and sorrows of each other and this humanitarian deed and way of life is the fruit of Iranian-Islamic splendiferous civilization.
.
Tarrah offensive operation (July27th, 1981)
It goes without saying that this area is considered to be the major southern gate of the golden Iranian ancient history and civilization.
Local Dishes
.
Bazideraz offensive operation (2) (September 3rd, 1981)
Fish and Prawn play an important role in most people's diet especially in islands and coastlines of province.
For example in Qulye-mahi (fish-fricassee), fried fish, stuffed fish, rice & fish, rice shrimp, etc, but the people residing the hinterlands, usually consume Dal-Adas (lentil soup), Lelak(drawn granulated wheat) & ranginak (dates with walnut inside furnished with oiled flour & sinnamon)..
Martyr Madani offensive operation (September 18th, 1981)
Kinds of fish
.
Analysis of the battles from September, 1981 to September, 1982
Edible fish hunted in the coastlines of Bushehr province are: Halva (pomfret), shuride, Rashgu, Sangsar, Hamur, Shir-mahi, Ghobad, Sorkhu, Sobur and many other kinds..
Samen-al-aemmeh offensive operation (September 27th, 1981)
Source: Bushehr cultural heritage & tourism administration
.
Tariq-al-Qods offensive operation (Karbala 1st operational plan): November 29th, 1981